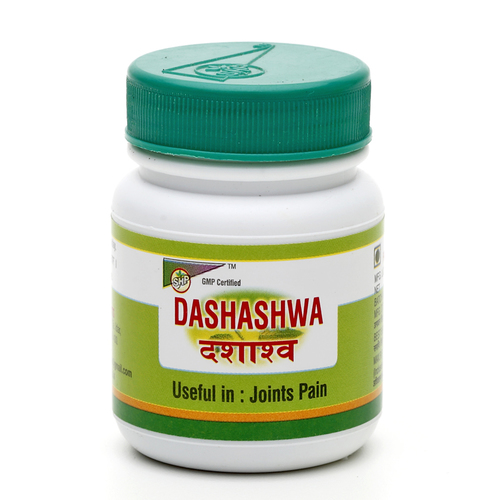 DASHASHWA
Product Code : 05
Product Description
Banking upon in-depth domain knowledge and years of vast experience, we have been able to emerge as a trusted organization engaged in offering Dashashwa. It is a good analgesic nerving tonic, ideal for joint care and pain care. We use natural herbal extracts to process these capsules at our sound processing unit. Dashashwa is ideal for treating arthritis, cervical spondylosis, osteo arthritis and rheumatoid arthritis. We offer these capsules at affordable prices to clients.
Features:
Extended shelf life
Less side effects
Free from adulteration

DASHASHWA
A very good experienced formulation for Joint Care and Pain Care.
Dashashwa contains Ashwgandha, Chopchini, Ajmodadi churna which are good analgesic, Nerving Tonic, Joint protective and digestive.
Maharasnadi quath and Dashmool quath are anti inflammatory and analgesic.Maha yograj Guggulu and Vatgajankush Ras are herbo mineral classical formation which is well known for its Vaat shamak effect. Sameerpannag Ras reduces pain and inflammation is Acute Condition.
Dashashwa is well balanced fast acting herbomineral preparation for all type of Aches and Pain, Arthritis, Cervical Spondylosis, Osteo Arthritis, Rheumatoid Arthritis ,Lumb ago, Sciatica ,Carpel tunnel Syndrome and other Vata related problems.
Side Effects—Dashashwa is well tolerated preparation but some people may get rashes on the body or itching or feel hyper acidity. In that case consult your doctor and discontinue the use.
DON'T---Don't consume spicy, oily.sour salty diet and also cold & stale food. Cheese, sauce, Chinese food, pickles, papad and fermented food must be AVOIDED during the therapy.
DO--- Light Exercise, simple diet, stress free mind, keep your bowels clean. Take leafy vegetables. Massage on the body with Mahanarayan Oil.
Dose--- 1 to 2 capsule twice a day.
Pack-30 capsules. Cost-Rs.150/-
Courier charges extra.
(To be taken under medical supervision)